BIRD DOGS FOR SALE
Dogs developed through our breeding and training programs are available at most times in various stages of training. All dogs are trained to bring out the natural desires and abilities in each dog.

Dogs who are "just started" have been introduced to birds and the gun, are retrieving, but have not been steadied. Dogs who are "in training" are working on pointing staunchly and retrieving to hand. All trained hunting dogs are steady to the flush of the bird and many are steady to wing and shot. Dogs who are "finished" are steady to wing and shot. These dogs will retrieve to hand, and will back or honor another dog on point.

All of our dogs will not only make excellent hunting partners, but each will make an exceptional family companion.
Started Dogs
Dogs in Training
Finished Dogs
Serious Inquiries Only


"Fozzie"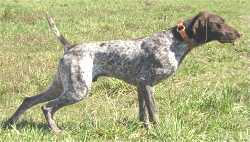 Windwalker's Movin Rite Along
Whelped 4/13/2003

Pedigree
"Where Quality Isn't Expensive, It's Priceless"